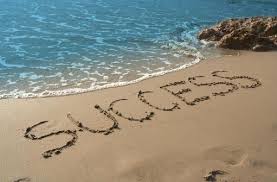 "Quitters never win; winners never quit."
What if this were NOT the golden rule of success? What if to see success, you had to quit?
The measure of a person is seen in the price they will pay for the ideals they hold. tweet
My wife and I met while volunteering with a non-profit organization. At that time I had been involved with this organization for almost 17 years and been a member of its Board of Directors for 10 years. The organization and its work held very deep meaning for me; and still does.
Shortly after marrying, the Board became divided over an issue that began to consume important time at meetings. I was on one side, seeing very clearly the route ahead through this issue. "Bob" (not his real name), was entrenched on the other side, seeing equally clearly an opposing route through the issue. It seemed that the more meetings we had on the issue, the more entrenched the two sides became in our opposition.
It was a difficult time because I knew that the route I was proposing was the right thing; if the organization chose Bob's route, it would encounter more difficulty which would impact its daily operations. I knew that Bob cared more than I did for the organization and its work, yet he was clearly wrong in his vision for the way through this issue. I knew I was right, and for the sake of the organization, I had to persevere in advocating for the best vision. It was then that I made the hardest decision: I quit the Board!
Quitting
I didn't quit in a huff; there were no demands of reform or I'll leave; all I gave was a simple resignation without condition. And while I have never since served on its board, my wife and I have continued to support it financially and on many occasions we've rolled up our sleeves, giving up our vacations, to serve in its programs.
Success
Within 3 months of my resigning, Bob changed his position entirely and was advocating for the same route that I had been. The organization made the decision to follow the route that I – and now Bob – advocated. And in the 15 years since, it has continued to function and flourish.
Internal Conflict Corrodes
Many organizations have collapsed due to internal conflicts over vision. Their collapse is not due to choosing one vision over another, rather it's caused by the corrosive effect internal conflict has; eating away at the very foundation of the organization: it's people. When internal conflict – whether as benign as volunteers asking for why things are done a certain way, or as malignant as an outright power struggle – is not addressed in a healthy and positive way, the foundation is weakened. If nothing is done to answer questions or resolve the power struggle, the weakened foundation begins to crumble; support (or clients) begins to dry up; volunteers become harder to find; staff tensions become more prominent; productivity wanes; morale evaporates and eventually the organization collapses or experiences a seismic, almost cataclysmic shift in direction.
You are only accountable for yourself!
It was not an easy decision to quit. I had a number of people question my commitment. Yet I subconsciously knew the price the organization would pay if I (or Bob) didn't quit. It was obvious that Bob and I were deeply entrenched – neither was going to yield – so the organization was going to suffer. In fact it was already beginning to show signs of foundational crumble. It was Bob or I that had to go, and since I'm only accountable for myself, I knew the price I had to pay for the success of the organization that I was so deeply committed to: that price was my resignation.
What price are you willing to pay for the success of your organization?
What organization are you deeply committed to? How do you handle the internal conflicts that arise? What's the price you're willing to pay for its success? Are you willing to quit?
Share your comments below…